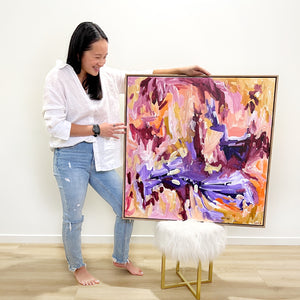 Mulberry Dreams - 23rd St Gin
Mulberry Dreams • This is my artwork for the newly released mulberry gin bottle for 23rd St Distillery.
At end of July last year, hubby and I went on a date night to see Van Gogh Alive. We drop the kids off at my parents house and left super early (as you do when you have babysitters ahah) and we went to the pub to have a drink beforehand. It might have even been 'The Archer?' Anyways…as we stand there to order our drinks, hubby said to me, "oh have you seen these gin bottles before?" (23rd st bottles) and my response was "ohh YES!!! I love the bottles, I follow all the artists. I love them all"…And then me being me followed up with this statement "I don't know how yet or when but my art will be on one of those bottles". Hubby obviously laughed at me because I say things like this all the time…In my defensive I'm a super hard worker and I don't often take no for an answer, people who have worked with me in aviation will know this well ahah.


Needless to say, I screamed with joy and am beyond grateful to have had the opportunity to make one of my art dreams come true…. Forever a dreamer girl, making dreams come true! xx Lena.
---