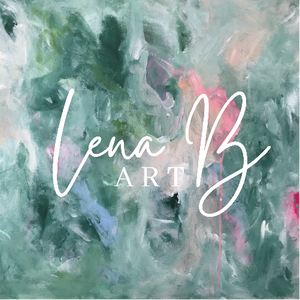 Rebranding - Lena B Art
Tonight I close a small chapter that has been part of my journey the last few years and take a leap of faith further into this artist journey. I have been pondering the decision to change my 'business name' or branding away from Sew the Seed for a short while now and with a few new opportunities on the way now is the time.

I started Sew the Seed back in 2017-early 2018. At the time I was a very crazy plant lady. Plant obsessed… I decided to paint on fabric which I then turned into fabric plant covers. This little side hustle was my other baby and I just enjoyed it so much….insert an actual real second baby and honestly I couldn't really find the time to sew. I also realised that along the way I really enjoyed painting and sewing I dreaded. Painting was what I wanted to do!! I love just losing myself to different colours. Colours seem to have a way of displaying my emotions at the time and still do. Never have I thought my little side hustle would slowly develop into an artist journey. For this reason I am grateful for my children and husband for gifting me 'time' to explore this journey. Thank you for following and supporting my journey so far. I really can't wait to see what the next 12 months will be like. 
---