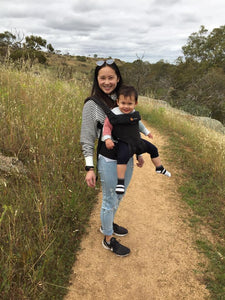 Welcome to SEW the SEED by Lena B
Hi there, 
Welcome to SEW the SEED by Lena B. 
Firstly, I should introduce myself - Hi (wave) I am Lena. A mother of 2 crazy boys under the age of 5yrs old. Prior to having my children, I was Lena who worked full time and a keen yoga practitioner practicing 5-6 times a week. After having my first son, in 2017, I made the choice (so grateful that I am able to make a choice about this) not to return back to my place of work and enjoy focusing on being a mummy for a short while. Along side with this timeline, I was able to complete my yoga teacher training and later into early 2018 I started Sew the Seed. At the time, my sister in law and I were doing a lot of the social media for Sew the Seed together (she is a graphics designer - so beyond grateful she could help me start up this business). I started the business to make pot plant covers.
Essentially, it started out with selecting fabrics with patterns and colours that I loved or resonated with at the time. I then hand cut and sew them into cute plant covers. We did our first and only market stall in a town called Wilmington, located mid north of South Australia. It was a hit!!!!!!
After a few months of sewing and selling my plant covers, I was getting bored or just didn't seem to find the right fabric to make my plant covers pop with joy. I had the idea to start painting on fabric (not a new concept, but it was new to me).  
This changed my business and in someways painting changed me. 
In 2019, I had my second son. With two kids, a husband and teaching yoga, opportunities for practicing yoga seem to get less and less. Instead I would find myself  painting away my thoughts on fabrics. Somedays the colours and shapes don't match up just like the millions of thoughts running inside my mind and other days it works out perfectly.  For moments in my life when I can't get to a yoga class painting has become my new 'moment to moment'. It is truely the time that I zone out of my thoughts and live in the moment and enjoy the present. I enjoy turning my art into plant covers and I also enjoy sharing my art and love of colour on canvas. I truely hope that each piece of art (plant cover or artwork) brings as much joy to you as it did to me while creating it. I can't wait to see photos of my art in your amazing space. 
---